We are a custom fabricator of Plastic Tanks and products.
We do not carry a stock line of fabricated items; we custom build to your specifications.
We are available to offer design and material suggestions. We have over thirty years of experience in the field of plastic fabrication.
Please note that the ultimate design is up to you and that you are to determine the suitability for your requirements.
Please feel free to contact us with any questions that you might have.
You may click on any of the links below to see images of the many applications of plastic tanks
and items that we have completed for customers across the United States.
Please note that we service industry and government only.
We do not respond to private or individual requests.
Click Here To Buy Plastic Materials Online.
Sheet, Rod, & Tube
Please Click On A Product

For More Information.

www.plastictanks.com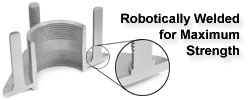 Buy Rhino Tank & Bulkhead Fittings Online
---
Click Here To Buy Plastic Materials Online
Sheet, Rod, & Tube
| | | | |
| --- | --- | --- | --- |
| Plating Tanks | Chemical Tanks | Wastewater Tanks | Water Tanks |
| Plastic Tanks | Plastic Fabrication | Plastic Machining | Plastic Materials |
| Commercial Tanks | Polypropylene Tanks | Overflow Tanks | Plastic Welding |
| PVDF Tanks | Storage Tanks | Industrial Tanks | Polyethylene Tanks |
| | PVC Tanks | Process Tanks | |
DO YOU NEED A PLASTIC TANK, FUME HOOD OR OTHER INDUSTRIAL ITEM MADE OF PLASTIC?

We are here to help with all of your fabricated or machined plastic requirements. Plastic Fabrication Services, Inc., is a Quality fabrication and manufacturing facility which serves the needs of Industry and Government all across the United States.

This is an Industrial website. We serve Industry/Government and Industry/Government only! We produce a Quality product at a commensurate price.

If you want The Best in your product and the assurance of dealing with a World-Class Fabricator, stick around. Welcome to Plastic Fabrication Services, Inc. We welcome your business.

We Custom Fabricate To Your Specifications.

---

PLASTIC FABRICATION SERVICES, INC.
Phone: 440-953-9990 Fax: 440-953-1599
company[at]plastictanks.com (replace the [at] with @)

Facility/Shipping/Receiving
503 Lake Shore Blvd.
Painesville Twp., Ohio 44077

Billing/Payments/Mail
P.O. Box 242
Grand River, Ohio 44045-0242


[Home] [Large Tanks] [Fume Hoods] [Divided Tanks] [Enclosed Tanks]

[General Tanks] [Clear Tanks] [Round Tanks] [Machined Parts]

Entire Site Copyright 1999-2015 By Plastic Fabrication Services, Inc.
All Rights Reserved. Copying & Duplication Prohibited..
www.plastictanks.com/index.html